The Haunted-204 S. Main
[ 13:03 | 8.87 MB ]
Play Now
|
Play in Popup
|
Download
Seth McCormick Goodhart is the Senior Special Collections Assistant at Washington and Lee University. He has worked in Special Collections for over five years. "We are the keepers of the university and institutional memory," said Seth about the Special Collections department.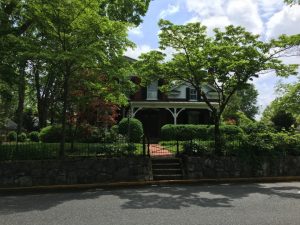 Goodhart was born in 1973 and was raised in Lexington, Virginia. He traveled the world working various jobs before coming across the opportunity to work in Washington and Lee's Special Collections. After returning to Lexington, Seth now lives with his wife and children.
Seth was raised a devout Catholic, but after the passing of his grandfather, the church handled the situation poorly. After this event, Seth and his family began to separate from the Catholic Church. Seth remains spiritual and believes in a higher power. He still takes his children to church services not wanting to deny them of the great sense of community the Church instills.
The main story Seth shares focuses on a house located at 504 S Main St, Lexington, Virginia, just outside the center of town. The house was owned by family friends and Seth spent a lot of time there as a child. The original house was built in 1884, although it has been renovated multiple times since then, including during Seth's teenage years and most recently in 2015. A house that old must have a deep history, but the only thing that has turned up was the possibility of a convalescent home during the Civil War time period. He tells us multiple stories of a spirit haunting this house over the years.
Listen to our Ghost of Rockbridge podcast, The Haunted, to learn more about the ghost of 504 S. Main St. and more Lexington ghosts.